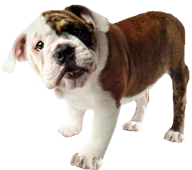 We believe you should expect high quality care as well as great service. Our goal has been to assemble a veterinary health care team committed to providing exceptional client service and veterinary health care. Our commitment to you is to continue to offer our world class service and a state of the art veterinary facility.
Your pet's annual vet check-up will include a comprehensive physical exam, with a thorough investigation of your pet's head, body, tail, mouth and skin. The veterinarian will listen to your pet's chest, feel pulses, assess lymph nodes throughout the body, palpate the abdomen and go over orthopedic ability. At this time the veterinarian will go over their findings and answer any questions you may have. Please don't hesitate to discuss behavior, diet, vaccinations, or any other topics you might have. Our goal is to provide the best care for your pet. We are here to help.
Because even the most cooperative pet may not readily go-along with a tooth and gum brushing, an annual cleaning by your veterinarian maybe in order. Like you, your pet can lose his teeth due to decay and neglect. It's a good idea to keep an accurate medical diary not only of the procedures and vaccinations your pet receives at the vet, but also of notes on things like your pet's elimination habits and any physical changes or unusual occurrences. Keep track of small shifts in your pet's behavior, including urinary marking habits and mood swings, along with diet and routine modifications. These seemingly unrelated occurrences may help the veterinarian better understand your pet and their needs.

Your vet may refer you to a specialist, veterinarians who have completed advanced studies in specialties such as internal medicine, surgery, and emergency care, if your pet must undergo a procedure that requires more precise knowledge and experience.